When we discovered Conor was allergic to eggs, we removed most egg products in our home. In that list of egg products that must go was the ever
eggy
mayonnaise
. I had accepted that we would just never have mayo at home, and we were dealing with it in a
valiant
and brave manner. There were a few dishes we were unable to make, but for the sake of our child we were willing to forgo them.
Then one day, a friend who is vegan told me about an amazing product. There was a
mayonnaise
that was vegan, and so had no eggs, no dairy, no animal byproducts. And even more amazing, it really tasted like
mayonnaise
. This amazing product was called
Vegenaise
.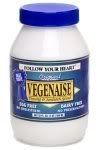 http://www.followyourheart.com/
Apparently in order to be called mayonnaise in the United States, you must have eggs in your recipe, so instead Vegenaise was born. It comes in four varieties, original, grape seed oil, organic, and expeller-pressed.
So I ran out to the local store that carried this mystical product. To me mayonnaise and eggs had always been synonymous. I took home a bottle of the grape seed oil Vegenaise and we opened it for everyone in the house to have a taste test.
Everyone loved it, even those that had never tried mayonnaise before. Mick and I thought it tasted easily comparable to real mayo, and excitedly started planning all the things we (or he...I am not the best cook) could do with it. Jan is from Thailand, and not that familiar with American mayo, but seemed to like it. The young folk all willingly tried it, and even the extremely picky princess begrudgingly agreed it wasn't bad.
So last night for dinner, Mick made his Aunt Kate's really yummy mayo, crab toasted sandwich things that I really love, and we have not had for years.
Vegenaise Rocks!!!!
Now does anyone know of an egg free quiche???